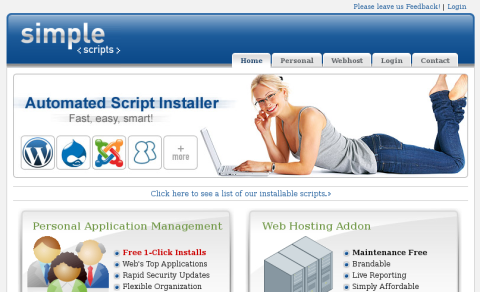 SimpleScripts.com Making WordPress Installations a Breeze.
If you havn't heard of it SimpleScripts I would like to tell you about some of its amazing features.  This amazing site makes the installation of WordPress a breeze.  Not only can you use SimpleScripts.com to automatically install wordpress but you can also instantly install other programs like:
The i2theme and i3theme are two of the most popular themes on the web and now you don't even have to worry about installing wordpress on your server.  With SimpleScripts your WordPress installation will be eaiser than ever.  All you have to do is type in your web hosting FTP information and and SimpleScripts will install wordpress or any other application on your server instantly, its as easy as that!
Best Wordpress Hosting Providers - 2014
All three hosts offer FREE 1-click Wordpress installs making them the best Wordpress hosting providers. For more web hosting reviews be sure to check out AlreadyHosting.com.
Leave a Reply
You must be logged in to post a comment.