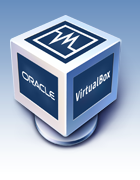 This is the first time, I did something "significantly" useful with Linux, blogging. I had many past experience installing Ubuntu and many times I find myself either lost with all the UNIX/Linux commands or there are nothing much I can do as most of my files are on Windows XP.
Now I'm happy to say that, I'm starting to love Ubuntu, especially their font rendering engine. Have to agree with my friend – the font rendering in Ubuntu is much better.
So, the reason why I went back to Ubuntu again, is because I found the right virtual machine software, VirtualBox, that overcome all the limitations I face previously with VirtualPC and VMWare.
The 5 main reasons why you should use VirtualBox:
Mouse Integration – Nothing can beat the feeling of not having to search for your mouse when you switch OS and the cursor moving at different speeds.
Share Folder – There might be third-party software out there, but this feature comes with VirtualBox. Simple installation and your Windows files are available on Linux. Nothing change except the OS. 😉
Super lightweight – Self-explaination. The smallest VM I ever seen.
Free as in free beer – According to Andrew Min, VMware has free version but it's slower compared to it's professional edition. Thus, the VirtualBox takes the crown. (

Needless to say, VirtualPC ain't free

, my mistake. it's free)
Easy and Fast – It takes me less than 30 mins to download, install and setup everything.
If you are still considering switching, maybe you should give this VM a try. I felt VirtualBox has everything to overcome the limitations of having multiple OSes. (I love the Linux font rendering engine, it makes blogging much better, do give it a try)
Update: This is merely my experience and my opinion after using both VMware and VirtualBox. Nonetheless, I acknowledge the lack of technical comparison here. So feel free to give it a try and do your own comparisons. Cheers.
Sponsored by: Best WebHosting Reviews
Best Wordpress Hosting Providers - 2014
All three hosts offer FREE 1-click Wordpress installs making them the best Wordpress hosting providers. For more web hosting reviews be sure to check out AlreadyHosting.com.
2 Pings to "5 reasons why you should use VirtualBox, instead of VirtualPC or VMware"
food for thought » Virtualization – A Quick Tutorial Says:
February 21st, 2011 at 12:21 am

[…] dual-boot the same Windows on your Mac Windows on Mac, Simultaneously Virtual Appliance Marketplace 5 reasons why you should use VirtualBox, instead of VirtualPC or VMware Microsoft Sets Virtualization Free Convert Physical Machines to Virtual Machines – Free! […]

5 razones para usar VirtualBox y no otro | Paraiso Linux Says:
April 10th, 2012 at 9:55 am

[…] de poder trabajar bajo Windows, Linux y Mac. Gracias a encontrar un enlace en Newsvine al blog MangoOrange os vamos a poner las cinco razones más importantes por las que recomiendan usar VirtualBox antes […]
60 Responses to "5 reasons why you should use VirtualBox, instead of VirtualPC or VMware"
Leave a Reply
You must be logged in to post a comment.